There are a lot of things that I wanna write here in my blog.
My shopping day and going out to watch The Tourist with my family..
My MUET result..
My feelings..
I don't know. Honestly, I don't really have the appetite to eat lately. But still, I force myself to eat. Hmm~ This is suppose to be normal after what happened. I think my appetite will come again around soon.
My MUET result. It was okay. I passed band 4. Very thankful to God for giving me that result. However, being a greedy human myself, I can't help but to wish I could get a band higher, at least. My mom, of course, targeted that I'd get band 5. And so are my friends. I'm sorry to disappoint you, Ibu. I only manage to get band 4.However, Ibu said, concentrate on my studies. Yes! And look what I'm doing now? Updating my blog. Which I don't think there will be anyone who will be reading this.
I'm so used to to get high expectation and I'm so used to breaking them.
It's just like my blog I guess. It looks merry, colourful, lively, but it felt empty. Doesn't it? Just like my mind. I have so many thoughts, so many emotions, but there's only me. :)
Back to MUET. I know I shouldn't be unsatisfied with it. But rather be very grateful with what I have. Seeing my friends crying, finding comfort in their friends hugs, I ought to be grateful. Yes, I am. Some of my friends, I wish I can hug ya'll and say, 'It's okay. This MUET thingy is just a number. Just like SPM, it's just an alphabet. I'm sure God has His best plan planned for you. You'll get through it. I know you will.' *hugs*
Hmm~ I feel gloomy. Me no like! I wonder, when will the sun comes out? I miss sunshine! :'(
So! Lets talk about my shopping day! Yeah!!!!! We went to KLCC particularly because I wanted to buy jeans. As usual, we head to Marks & Spencer. Now, the reason why I've been shopping for jeans only at Marks & Spencer is because I find they have a variety of jeans sizes, different yet immaculate cutting (perfect for figure like me! haha) and it actually made of good quality (though some are made at Bangladesh). For instance, I have this one jeans which lasted for about.. 3 years already?? Yeah yeah I know. Fashion-wise, I should have gone to the fashion jail now. But hey, look at me, I'M FREE!~ Hahaha Oh yeah! Knowing that most Marks & Spencer piece of clothing usually cost 2 digit (and it's usually with the big number) or 3 digits, this piece cost me only RM99!! Great kan?? I love Y.E.S.! :D
Just a simple jeans. :)
Then we went to shop for my shoes. This time around, no more RM200++ shoes. Just a simple, normal, good-for-class, but still classy shoes. Haha I manage to get a pair of shoes from Scholl. New arrival. At first, Mak Long suggested me that shoes. But I don't really like it. Then we showed the shoes to Ibu, bring along with another pair of shoes that I like, and ask Ibu to compare.
'Ibu rasa yang ni (showing to the Scholl shoes) nampak lagi classy dari yang ni(showing to the shoes that I like)'.
-.-
Okaylah. Whatever Ibu said, I just follow. And so I bought that shoes. Felt very comfortable. Like! :D
See, Ibu also knows best. ;D
Whisper: Mak Long wanted that shoes long before I bought it. But I'm the one who got it. Thanks KPTM! XD
Oh yeah! And the best part of all, we went to watch The Tourist on the very first day it was released!!!! At first, I was kinda reluctant to go and watch this movie. I wanted to go and watch Season of The Witch. Lastly, I followed Ibu's choice (see, I'm a very good daughter! hahaha)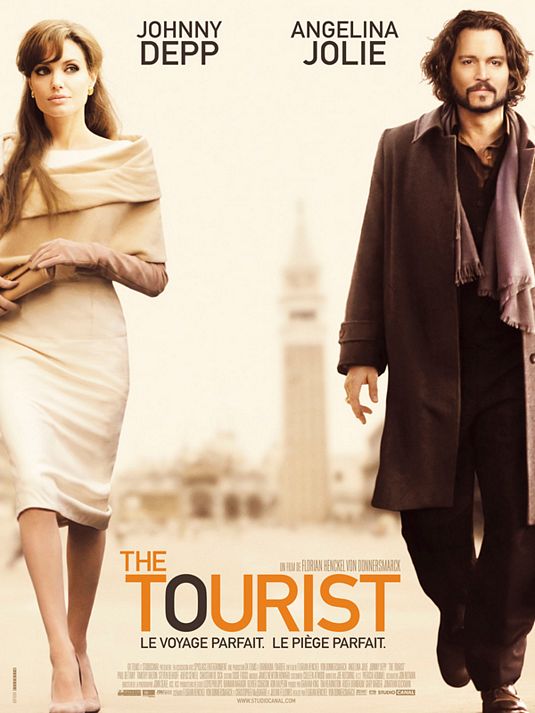 Tempting kan? Quite hard to choose isn't it? I wanted to watch Season of the Witch because I thought I wanna watch something cool. Ya know, the witch thingy... the action.. the wow-ness of it. On the contrary, The Tourist is not that bad either. Come onnnn! Jolie is an A-List actress. She wouldn't want to act in some..lousy movie right?
From what I read, most of the sources said that the Tourist is actually a thriller and adventurous (??) movie. During those time I spent in the movie theater, I found it quite the opposite of it actually. A bit of humour (I wouldn't say this if we the audience didn't laugh all together in the hall) hahah And you know, the ending of the movie will leave you more like, 'WHAT THE???' and you'll jaw-drop I tell ya. Jaw-drop babeyh! ahahha I'm not gonna tell you more, better go and watch it yourselves. XD
Oh. Except one thing. Johnny was suppose to act like a Math teacher. But he looks like he's so familiar with boats. Hmm, maybe his roles in Pirates of the Caribbean somehow indirectly affected him???
I thought, being Jolie is quite easy. You got the look, just express the right facial expression, say some line, and give that sexy look with the eye, some gestures and poof! There goes the million bucks in her bank account. Life could be that easy for some people, aite? Okay, we're not talking about how she got into the entertainment biz. haha
Anyway, having a tiny bit of the Kimora-ness in me, I couldn't help but to drool over that lovely piece of clothe that Jolie wore in the movie.
LAVIT!!!
It's simple, not too many colours, and yet, it still looks elegant! LAVIT!!
Now, if you haven't watch it, what you're waiting for?? Go watch it now!!! :DD
P.s.: I wonder how does Johny feels being able to kiss Brad Pitt's wife? Hahaha
L.O.L.,